Profile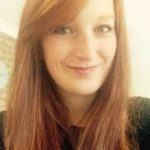 Natasha Myhill
I'm a PhD scientist researching a cure for cancer
My CV
Education:

Dame Alice Harpur School 2005-2012, Durham University 2012-2015, Imperial College London 2015-2016, University of Manchester 2017-present

Qualifications:

Bachelor of Science (BSc) in Biomedical Science, Master of Research (MRes) in Biomedical Research

Work History:

Capers Catering company summer job – 2009-2012, GSK – summer intern 2013

Current Job:

CDT in Regenerative Medicine PhD – cancer immunotherapy
About Me:

PhD scientist who loves food, films and hanging out with friends!

Read more

I'm Tasha, a 24-yr old PhD student living near Manchester with my fiance. I love cooking (and eating) different foods, watching movies/netflix and playing sport – badminton and ultimate frisbee (yes, its a real sport, yes, its awesome).

I used to do a lot of music in school and Uni, including singing and playing the saxophone in a band. I also love playing board games/video games and hanging out with friends.

Read more

So, our immune system is pretty clever and when we get ill, it will try and attack invading bacteria or virus to keep us healthy. Pretty handy right? It's a bit different when it comes to diseases like cancer. Cancer is really sneaky, it comes from our own cells becoming mutated, so our immune system doesn't know how to attack it.  However, there are a few cells in the immune system that are amazing and they can attack the tumour! This is great, but on their own, aren't very successful.

The company where I work can treat some cancers by finding these special cells and growing them up to massive numbers in the lab, so when the patient gets them back, they work together to kill the cancer!

My research is looking at how these superhero cells recognise and kill the cancer and how to make them even better at it!

My Typical Day:

A mixture of setting up experiments, running and analysing them – not forgetting a few tea breaks!

Read more

I usually get in around 9.30am and check emails, plan what I am going to do during the day, have a cup of tea. Most days I will then spend a couple of hours in the lab looking after my cells and setting up experiments. The experiments I set up usually run for 1 or 2 days so in the afternoon, I will run experiments I set up a day or two before. Then in any spare time I will try to analyse the results to see what they show. There is also time for chatting with my friends at work, sometimes about science, sometimes about everything else!

I love it because every day is different and interesting, and I get to use my science degree to figure out what is going on – a lot of work in science is like solving puzzles, or figuring out how to fix a problem, which is really cool!

What I'd do with the prize money:

I want to use the money to work with schools at providing better information about the different careers in science.
My Interview

How would you describe yourself in 3 words?

Organised, active, bubbly!

What did you want to be after you left school?

I didn't know what jobs I could get in science but I knew I wanted a job where I could try and find a cure for cancer - this is harder than I thought at the time!

Were you ever in trouble at school?

No, I was pretty well behaved.

Who is your favourite singer or band?

I like Bastille, Imagine Dragons, Mumford and sons, mostly indie/rock stuff.

What's your favourite food?

Such a hard question! Pretty much everything. Pizza is great.

If you had 3 wishes for yourself what would they be? - be honest!

Cure cancer, win the lottery, go on Strictly Come Dancing.

Tell us a joke.

Q: What was the biologist wearing on their first date? A: Designer genes
---
---
---