Profile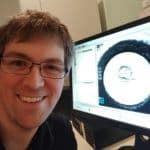 Paul McKeegan
Embryo energy scientist
Curriculum Vitae
Education:

School and Sixth Form at St Mark's School in Hounslow, London; Degree at University of York, 2005-2009; PhD at Hull York Medical School, Hull, 2011-2015

Qualifications:

BSc Biochemistry (First or Bachelor's degree), PGCE Chemistry (Teacher Qualification), PhD, AFHEA (Associate Fellow of the Higher Education Academy)

Work History:

Science Teacher at a Secondary school 2009-2010; Medical Laboratory Assistant at a Hospital 2010; Postdoctoral Research Scientist 2014- present

Current Job:

Research scientist in reproduction and embryo development

Employer:

Leeds Institute of Cardiovascular and Metabolic Medicine at the University of Leeds
Favourite thing to do in my job: Probably talking science with friends and thinking up new, mad ideas for experiments!

About Me

I'm 30 years old but my wife thinks I'm closer mentally to our 20-month old son. I love science, and when I'm not doing it I'm usually watching Netflix, playing videogames, reading or eating.

Read more

My name is Paul and my family are all Irish but I was born and grew up in (Greater) London. When I was faced with choosing A Level subjects as I got to the end of year 11, I realised that I had to pick Biology and Chemistry over English and History. I also did Classical Civilisations, which is brilliant if your school offers it, AS Maths (which I confess I never enjoyed at school but appreciate it a lot more now), and AS Critical Thinking, which is also cool if you get the chance to take it.

I knew pretty early on that I wanted to go to the University of York – I'd been to York on a primary school trip and thought it was awesome. I initially wanted to do Forensic Science, but York didn't offer it so I decided to do Biochemistry instead and keep my options a bit more open. I met my wife on our first day, so definitely a good decision!

I really enjoyed studying Biochemistry and thought it would be fun to teach it to school students, so I stayed at York to do teacher training. This was great fun, if very hard work, and I followed it up by working as a teacher for a bit. This was even harder work – much respect to any teachers reading this! It's also brilliant, but I really missed being in the lab so I left and worked in a hospital lab for a few months.

I then started a PhD at the Hull York Medical School. I'd never considered working on egg cells and embryos before, thinking developmental biology was a bit superficial and dull. However the project was very biochemistry focussed – enzymes and chemical reactions releasing enough energy to build a person (actually a cow), which I thought was pretty cool. Studying this was brilliant and I ended up meeting lots of great scientists and finding out loads of new stuff. I followed this by moving to Leeds, where I still get to work with egg cell and embryos.

When I'm not doing science, I'm usually spending time with my wife and son. He's a cheeky toddler so there's lots of time spent at the park, playing with Duplo and toy cars, and running about like a chimp. When we get the chance, my wife and I watch stuff like Stranger Things, Game of Thrones, and the Great British Bake Off. We also occasionally get out to the cinema, usually to see the next Marvel film, and absolutely cannot wait for Star Wars: The Last Jedi. I don't get as much time to play on the Xbox as I used to, but I occasionally get stuck into Dark Souls or Gears of War and am looking forward to getting a Nintendo Switch when my son is a little bit older and can play Mario like I used to with my Grandad.

My Work

You are what your parents ate! I'm interested in how egg cells and embryos grow from a tiny ball of cells to a whole organism. The legacy we inherit from mum and dad goes far beyond the genetic code – diet and environment affects us from in the womb to becoming parents ourselves!

Read more

During my PhD I worked mainly on preimplantation embryos, which are little balls of cells, starting from one fertilised oocyte and going up to around 200 in a cow blastocyst on day 7. Human embryos develop a bit faster, but cow is a pretty good comparison (or 'model') so the new data are usually useful for understanding human embryos too. I also got to work with stem cells, which was pretty awesome. Although I worked in the lab and just with those early embryos, I found out lots of new data that was relevant to the whole body. I did a lot of work on fat metabolism, and contributed to a growing idea in science that the fat stores inside an egg cell is hugely important to correct egg and embryo development, and can even impact adult life.

I followed my PhD by moving to Leeds, where I've been working with sheep egg cells. Egg cells are mostly stored in the ovary as very tiny groups of cells called primordial follicles. We extract these follicles from sheep tissue collected from an abattoir – the sheep are destined to be lamb burgers and mince in ASDA, and the reproductive tissue is perfectly safe, but not used for food. I quite like the fact that we are able to use this tissue that would otherwise be wasted, though I wouldn't recommend visiting the abattoir to everybody! We then use the follicles and egg cells for experiments looking into metabolism and genetics during the life cycle from the 'primordial' egg to the fully grown egg that is eventually released from the ovary with the potential to form a new life. It's fascinating stuff!

I've since started a new project working with engineers. They are designing and making new devices to grow mouse embryos in, and I grow the embryos and do experiments to see how the new devices affect their growth and metabolism. The overall aim is to improve embryo growth so that we do not waste embryos in embryo transfer. We are working with mice at the moment, but this could also help improve human fertility treatment.

My Typical Day

A mixture of looking at embryos, doing experiments, discussing data and ideas with colleagues, and coffee.

Read more

I usually head straight to the lab to check on my egg cells and early embryos, which I grow for about 7 days in little petri dishes. I use microscopes to look at them but have to be quick as they are very sensitive and don't like being out of the incubator! I'll then carry out an experiment, usually using microscopes and other bits of equipment to find out how much of specific nutrients the eggs/embryos are using. I might also label the embryos with different coloured dyes to work out how many cells there are, whether they are alive or not, and how active they are in terms of metabolism. I'll then spend a bit of time checking emails, reading to see what other scientists have been up to and writing up experiments to publish myself. I'll also usually find time for a coffee with some of my colleagues and if I'm lucky, some cake.

What I'd do with the prize money

Set up a science podcast made by University students for School students.

Read more

I'm a big fan of science communication and would buy in some basic equipment to start up a podcast, run by university students, which would share and explain new science. There are several podcasts like this around, but as an ex-teacher, I would build it around the secondary curriculum, so it would help school students with their revision but also with understanding how the science we learn at school fits into the real world and the cutting edge of research. The university students would get great experience of communicating science, and it would help them keep on top of their learning and revision too!

My Interview

How would you describe yourself in 3 words?

Enthusiastic, easy-going and hungry

What's the best thing you've done in your career?

I got some money from the Biochemical Society to do my own research as well as my main project

What or who inspired you to follow your career?

A combination of great teachers and watching too much TV!

What was your favourite subject at school?

English or History - I only really focused on science at A level when I had to choose!

What did you want to be after you left school?

A forensic scientist. My whole class were obsessed with the CSI series.

Were you ever in trouble at school?

Not really, I tried to keep my head down.

If you weren't doing this job, what would you choose instead?

A writer or a videogame designer. But I would probably just play Lego with my son all day if I could get away with it!

Who is your favourite singer or band?

Frank Turner, Wombats, Foo Fighters, Snow Patrol, Red Hot Chili Peppers, anything Rock-based really.

What's your favourite food?

Burgers, pizza or steak

What is the most fun thing you've done?

My 30th birthday present from my wife was 30 minutes flying a helicopter. That was pretty good!

If you had 3 wishes for yourself what would they be? - be honest!

To have more time to spend with my family, to be more athletic and to not have man flu right now.

Tell us a joke.

What do you call a church made out of amino acids? The cysteine chapel!
---
---