Profile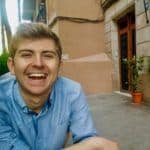 Tom Speight
Curriculum Vitae
Education:

Rivington and Blackrod High School, Runshaw College, Lancaster University, University of Edinburgh

Qualifications:

BSc Biomedical Science, MRes Biomedical Sciences

Work History:

Iceland Foods, Bolton Hospice

Current Job:

PhD Student

Employer:
Favourite thing to do in my job: Finally have something make sense that's been annoyingly confusing for ages!

About Me

A PhD student in Edinburgh helping doctors look inside of people's lungs

Read more

Heyy!

I'm Tom, I live in Edinburgh and I'm studying for my PhD. I actually come from Bolton but decided living there wasn't cold enough so moved even further north to Scotland!

After I got my A-levels in Biology/Chemistry/Psychology I went to Lancaster University to study Biomedical Science and learn about how the kind of things you are taught in Biology are linked to diseases people can get, and how we can use our knowledge to help people.

All of that led me to studying for a PhD here in Edinburgh.

My Work

I'm helping doctors find out exactly what your white blood cells in the lungs are doing for the first time

Read more

When you breathe air into your lungs, sometimes your breathing in other stuff as well. Sometimes that can be bacteria which can give you a pretty bad infection. But our body has a pretty good army of white blood cells ready and waiting to fight off any of this bacteria we can breathe in. What I'm interested in is a type of white blood cell called the alveolar macrophage. These guys live in the deepest parts of your lungs and they're the very first white blood cell to meet bacteria or other stuff we could breathe in. They do a pretty good job of noticing the rubbish that shouldn't be in your lungs and turn into a kind of Pac-Man and eat up things like bacteria. If they're up against a lot, the macrophages can also send a message out to get help from other white blood cells to make sure anything that shouldn't be in the lungs get removed.

In some people, these macrophages stop acting like Pac-Man. They stop eating and that lets bacteria damage the lungs and make it more difficult to breathe. We think we can make drugs that would help these macrophages start eating again, but how can we know for sure they've stopped eating? How can we know we've got them eating again if they've stopped?

I work with a huge team of scientists who have built an amazing camera that is on the end of a fibre no bigger than a strand of hair. Because it is so small it can go deep inside of a lung and show on a computer screen what's inside. My job is to make sure we can go as far as actually seeing alveolar macrophages while they are still living in the lung and see if they are eating like they are supposed to.

My Typical Day

It involves being woken up by an annoying hungry cat, cycling in the freezing cold and drinking too much coffee

Read more

I usually get woken up around 7am from my cat basically screaming from my living room to be fed (there are worse alarm clocks I guess). I have breakfast with my girlfriend and then get ready to cycle into work. If it's in the Winter like it is now, this basically means wearing enough layers, hats, buffs and gloves to easily do a tour of Antartica.

My day at work can be split between working on my laptop in an office or doing experiments in the lab. My office has quite a lot of people who I work with. We're all good friends and it's pretty cool having a good environment to work in because the work can be tough sometimes. Some of the things I do in the lab can be to take some blood from a willing volunteer and take out the white blood cells (which I still think is kind of magic) in order to perform experiments such as feeding them bacteria and watching them eat.

What I'd do with the prize money

Try to reach as many people as possible to show the difficulties facing the patients I'm trying to help

Read more

We're starting to see these days how easy it is to share videos online. Facebook, Twitter, Instagram. They all allow your videos to play as someone is simply scrolling through their timeline. But this means a lot of people are trying this way to reach people to advertise. Videos have to be of a high enough quality to make sure people watching beyond a couple of seconds and not just keep on scrolling.

This is how I'd like to reach people. I'd like to use this form of media to demonstrate first hand the difficulties and challenges patients with lung disease face. To show right from a patient's perspective how our research can change their lives and millions of others with lung disease.

My Interview

How would you describe yourself in 3 words?

let me think...

What's the best thing you've done in your career?

Share the work I've done to a crowd of people and have them be genuinely interested in what I've got to say!

What or who inspired you to follow your career?

The idea that we know so little about so much out there. I wanted to help find out new ways of doing things, especially if it meant helping people

What was your favourite subject at school?

P.E was always a good break from sat in classrooms all day

What did you want to be after you left school?

I think doing a job I know I'd be happy doing!

Were you ever in trouble at school?

Don't sneak out at lunch to go to the local chippy. Eventually you get caught.

If you weren't doing this job, what would you choose instead?

Maybe a doctor

Who is your favourite singer or band?

Arctic Monkeys

What's your favourite food?

Anything out of Mexico is always a winner

What is the most fun thing you've done?

Evertime I read this question my mind goes blank. I can't remember anything!

If you had 3 wishes for yourself what would they be? - be honest!

To see into the future, To be the best at EVERY sport, To win I'm a Scientist?

Tell us a joke.

Two snowman are standing in a field. One of them sniffs a couple times and asks, "Oi, do you smell carrots?"
---
---